Las Lomas de Nueva Andalucia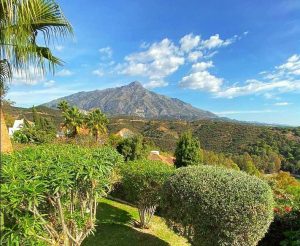 Urbanisation Las Lomas de Nueva Andalucia is an upscale, serene gated community with security cameras and guarded entrance, perched atop the mountain overlooking Turtle Lake in the heart of Nueva Andalucia. Rumor has it, this is one of Nueva Andalucia's pioneering gated communities. Though the journey may feel somewhat secluded due to sparse developments on the mountain's east side, it's well worth the ascend.

Positioned along the ridge are 19 elegant villas, each spanning approximately 300-350 square meters with private outdoor pools and secluded gardens. Here, tranquility reigns, allowing one to enjoy the serene ambiance, distant from bustling traffic. Yet, the vibrant Aloha Garden is merely a short drive away, with the iconic Puerto Banús just a few minutes further. Many villas have been upgraded to impeccable standards, while some untouched ones present a golden investment opportunity for the discerning buyer. The streets within this gated enclave ensure a peaceful environment, making it safe for children to play and cycle around.
The central villas, flanking both sides of the road, boast premium positions. If you prefer a dynamic vista, consider the residences on the right. However, if you appreciate a more serene view with lush greens and an uninterrupted panorama of La Concha, the left side offers views of Turtle Lake, La Concha, and the calming sea.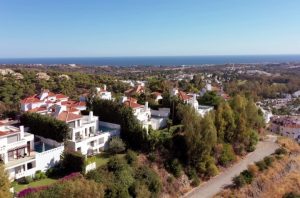 Nestled on either side of this private road, all villas offer breathtaking views of the surrounding landscape. To the west, 8 villas overlook Nueva Andalucia's Golf Valley, the sea, and some even offer views stretching to Gibraltar. The eastern-facing villas, on the other hand, grant views of La Concha mountain, Marbella city, the sea, with some even capturing glimpses of Puerto Banús.
Otero's Newly Built Villas with Stunning Views
Just outside the community gates, the renowned Otero group has constructed 5 brand-new luxury villas facing west. The debut Otero villa is now available for a competitive price of 2.8 million Euros, which is approximately 29 million kronor at the time of writing.
One potential downside of the Otero homes is their proximity to the northern ridge, occasionally allowing highway noise. However, compared to the usual traffic noise in other parts of Nueva Andalucia, this area offers a relative quietude, further accentuated by the absence of nearby nightclubs, making it predominantly peaceful.
Should I Buy Now or Wait?
It is very rare that properties in this community are listed on the market as they are heavily sought after by both local and international buyers. So if you see one for sale, seize the moment! The past year has seen more sales than many previous years combined. This momentum implies that soon, all villas will be refurbished, and shared spaces enhanced. At least 12 out of the 19 villas are either renovated or under enhancement. Presently, only 7 remain unmodernized, with more soon to be refurbished according to our insights.
Prices are poised to surge even further. With villas outside the gates, in less favorable positions and with compromised security, already fetching nearly 3,000,000 Euros, imagine the valuation of the in-gate villas once everything reaches pinnacle standards?